Tiny Buds launches limited edition First Aid Bag 2023
Tiny Buds unveiled its new and improved Tiny Remedies First Aid Bag in celebration of Baby Safety Month.
This bigger and better medic kit took one year to create. Heeding feedback from their loyal customers, Tiny Buds thoroughly studied how they could offer a finer safety organizer for parents and their TinyBuddies.
The limited edition First Aid Bag is water-resistant making it safe from spills that often come with having children around. It is also ideal to bring outside with its easy handle that you can use to hang on hooks.
This is the third time Tiny Buds launched their First Aid Bag.
In 2021, their First Aid Kit could hold up to 4 oil or spray bottles and 6 gel tubes. Then came 2022, the upgraded version held 5 bottles, 7 gel tubes, and a small pocket.
Still, moms requested for more space pa. Because Tiny Buds listens, the highly anticipated 2023 version can fit 5 oils or spray bottles and up to 8 gel tubes from Tiny Remedies.
And that's not all. What made the huge difference from the previous bags was the compartment at the back!
Just how big is it? It can fit the Gentle Baby Wipes with 70 pulls and the Diaper Changing Spray. That's saying something.
The nets can also hold your sheets of stick-ons and other Tiny Buds essentials. There will surely be enough space for your medical needs in the event of an emergency.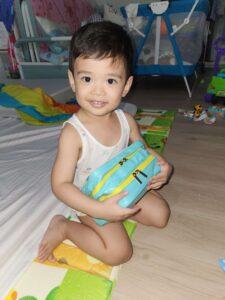 Also, this bag is just perfect for when parents travel with their kids. I used to house our medical items in different pouches like these.
We attended a wedding in Laguna last week and I remember my mom asking me if we have bandaids. I said yes but I wasn't sure where I put them. (surprise, it's inside ANOTHER bag)
But now I only have to bring one cute bag.
And because we're about to go north this week, I already filled this kit with our two boys in mind. Even our go-to meds are now secured here (hello, Biogesic and Simeco).
You can have this useful bag for FREE during the 9.9 Mega Sale. Here's my Facebook post with the mechanics of having it.
Speaking of minimum purchase required, if you are running out of cotton balls for those diaper changes, you may want to add to your cart their newest product: the Chabee Baby Cotton Pads.
I have yet to try it but I'm reading good reviews with "walang himulmol" as the number 1 pro. Moms also pair it with cleansers to remove makeup.
I can still remember the time I first learned about Tiny Buds. I was pregnant with Kuya Tikoy and was looking for laundry detergent for baby clothes.
More than two years have passed and Tiny Buds's line of products tremendously exploded. They aren't kidding about the tagline #GrowingWithYou.
Reminder: Buy only what you need. There's a reason why Reduce comes first before Reuse and Recycle.