Atticus takes over my blog
Hello, folks! Since many people are asking my parents for photos of me, I'm here to let you know how I'm doing.
Let me take over this blog as my mom struggles to buy from Shopee and Lazada's 9.9 Sale knowing they'll be using plastic packages for the parcels. But she needs to order my stuff. 😶
First, I wish for this pandemic to be over soon. I hear a lot about going out and eating and laughing with friends and families. I like seeing trees and cars when we go outside for my vaccines. Seeing and playing with animals in parks would be nice too.
I eat solids now and my ultimate favorite (to date) is pears. Squash and other veggies taste fine too when mixed with mom's milk.
What else? Hmm. Oh, yes! I'll show you my teeth! I try not to bite mom so I don't get ejected from my favorite milk source.
I can sleep on my own but I'll need a little swaying first. I sleep longer though when my mom is beside me. ❤️
I roll from back to my tummy but I'm still mastering tummy to back. Mom said she's not worried because babies have different timelines.
Meet Conrad, my favorite stuffed company. He also serves as my teether. Actually, everything serves as my teether.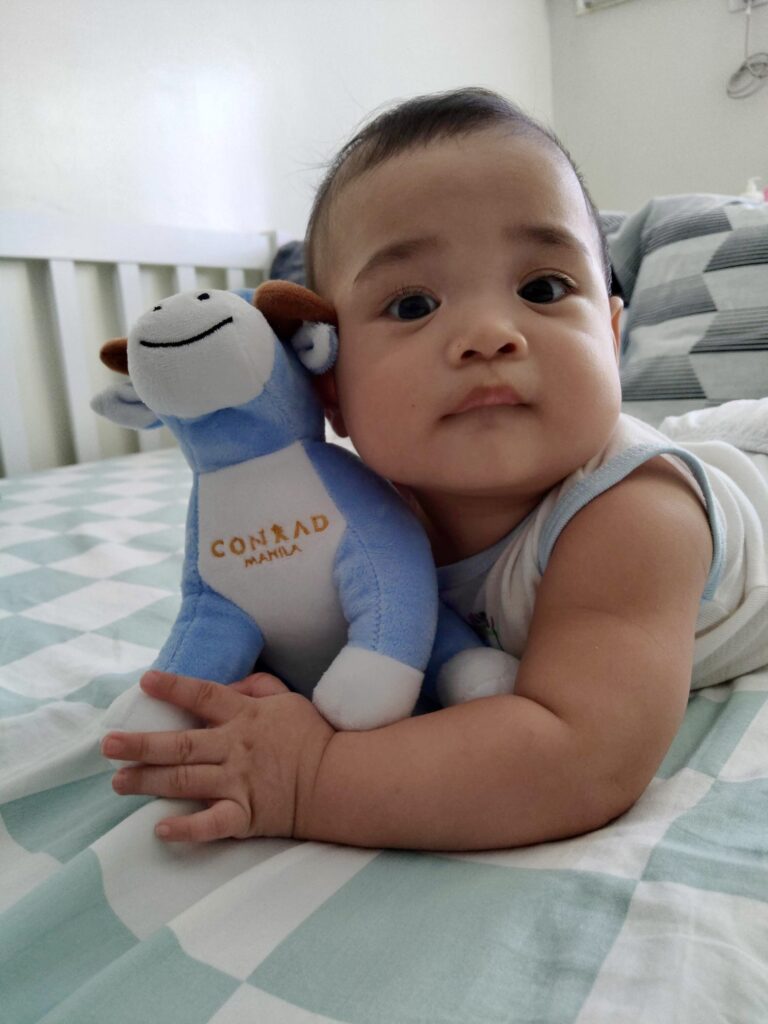 Things are not all good. My Lola Lola passed away last Sunday. I wish I got to meet her. My mom said she still remembers Lola Lola's beautiful smile the last time she saw her at their terrace.
Some nights my sleep is still erratic and it drives my mom insane.
Lately, I found out that it is fascinating to see things from a higher view so I always ask Lola to help me stand up. ✨ I can sit unsupported but not for a long period.
Every day I look forward to reading sessions with mom (though she seems to enjoy it more). It gets boring though when she flashes the same books.
My dad calls me Ace while my mom calls me Tikoy. I answer to both…unless I don't want to. 😆
So there you go. Thank you for always wishing me well. May we all be safe and happy and full of love.
Tumitiling siksik na baby,
Atticus
*Written yesterday, September 9. Didn't have the time to post because I was busy with Shopee dizzy and needed rest.