The Essential Items When Traveling With A Toddler (Get Free Checklist)
Eager to pack for your family's getaway? Don't forget the must-haves when there's a little human involved. Here are the essential items when traveling with a toddler.
This post may contain affiliate links, which means if you make a purchase after clicking, I may make commission at no extra cost to you. I appreciate your support! See full disclosure
here
.
When you have a kid, can you still pack light for your vacation? I wanted to tiptoe and say it depends on your definition of packing light — but forget it.
Before our family of three went on a vacation, I initially wanted to pack only backpacks. But what am I, a lone backpacker? I snorted at my plan. It's too ambitious.
Perhaps just like all the other parents out there, we just want to:
bring enough without having the weight of the world on our backs and
have free hands whenever a member of the family needs it
Here are items that made our travel time easy and comfy. I'll also write below stuff I wish/think we should have. Despite the additional load in our bags, it is still fun to learn what works for them while exploring places.
I wrote this after our Boracay trip in 2022 but didn't get the chance to publish it. We stayed in Singapore for a month this year and the list has evolved based on our experience.
Packing cubes
I wasn't a fan of packing cubes before, probably because only I used my bags. Having these organizers makes it easy for the whole family to have a pouch of their own. These cubes are mostly made of nylon and polyester and you can even use them as laundry bags. They also come in different sizes to keep your clothes, toiletries, shoes, or whatever you decide to bring.
Water bottle
No-spill water bottles are what toddlers need. This one we got from a department store came with a straw. It is non-spill, easy to clean, and appears to be sturdy (it has survived nth number of drops and intentional banging). Our toddler can hold it in one hand too with its smartly designed grip.
This Munchkin Miracle Stainless Steel 360 Sippy Cup is also non-spill unless someone drops it. It includes a lid and can keep drinks cool for 15 hours. Suitable for children 12 months and up, this insulated cup is also durable and has a capacity of 10 ounces.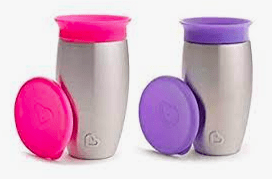 Snacks
We've got small bags of the usual breadsticks, eggnogs, and crackers. I also filled two food containers with cubed apples and pears.
Anyway, I am content with our storage bottles although I'm eyeing these containers too. I probably won't buy them in the near future. But just in case you're also looking for ideas, these seem perfect.
These Munchkin Snack Catchers can hold 9 ounces each. It keeps crumbs contained with its soft silicone flaps, also perfect for when you're on the go.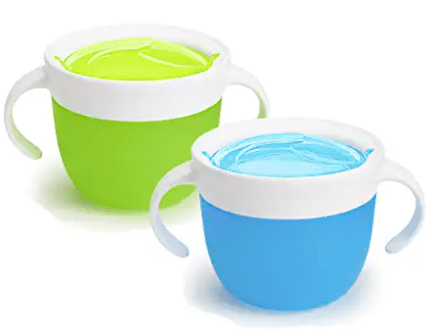 Food and fun are a good combo. This GoBe Kids Snack Spinner has five compartments and a button for when you want to spin and choose another snack. It's lightweight and leakproof, and each case can hold 1/4 cup of solid food.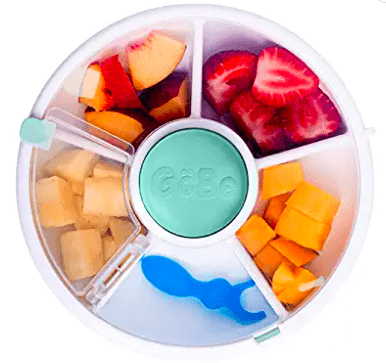 Sunglass
My most favorite toddler item in my bag. I almost skipped buying this thinking it would just hurt his temples and make him uncomfortable. Well, glad to be wrong. He loves wearing it and I am assured it protects his sensitive eyes with its anti-UV lenses.
This one below is for 0-2 years old.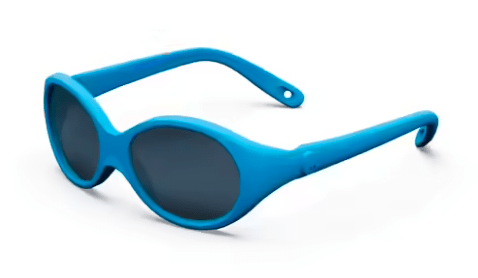 Hat or Umbrella
Avoid overheating with a wide-brim hat for your toddler. An umbrella can also keep your family dry and cool, rain or shine.
Sunblock
When I searched for sunblock reviews in parent groups online, Beach Hut had the highest votes. I'm wary however of the SPF 100 it has. I feel like it's too much. We opted to have the fragrance-free Mustela SPF 50+ specially designed for babies delicate skin.
It protects the skin against UVA and UVB rays and is suitable even for atopy-prone skin. It is also resistant to water and sand.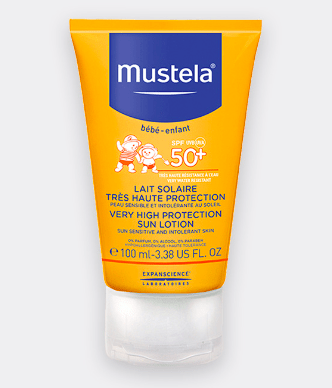 Rash guard
And since we're trying to minimize sun damage, have your toddler wear a rash guard as swimwear. It is lightweight and dries quickly. Some have UV blockers in them like this one from Decathlon.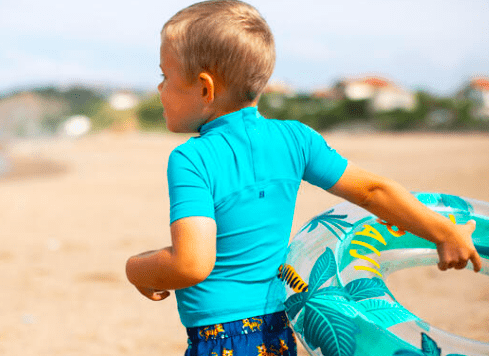 Insect repellent
I gotta say we only used this once but still, it makes me at ease to have it. Don't forget to lather a fair amount to the whole family, especially if going to places with high cases of malaria and dengue.
Carrier
I regretted bringing ours because we didn't use it. If you are used to this, wear it and free your hands. Your tot would also love the closeness and security baby-wearing gives to them.
Stroller
Just because we don't have one doesn't mean we all don't need it. Travel strollers can be compact, collapsible, and lightweight. When choosing one, you also have to consider features such as storage, recline function, and sun protection. The cost is a key factor too.
Update: We bought the Akeeva Capsule stroller last November. It fits inside the overhead compartments though some airlines only allow certain brands like Baby Zen Yoyo for hand carry.
Toys
Bring a toy or two, preferably handy ones. Take your toddler's favorite and make sure not to lose it. Have a few small or thin books too.
I wanted to buy my son this sensory activity bag but I knew he wouldn't be interested yet.
Sandcastle makers were the toys that I brought when we went on vacation. My boy however preferred common items such as juice bottles. He also preferred interaction with his parents and with other tourists.
Plastic bag / Vomit bag
We don't want to be empty-handed when this circumstance happens. Some airlines removed their sickness bags since Covid-19 happened.
Diaper bag
Think about it: even our bags transform significantly after a baby arrives. Any large bag can become a diaper bag, especially those with lots of pockets.
But if you are going to buy a diaper bag anyway, common features are thermal compartments for baby bottles, and slots for wipes and water bottles. Some even have diaper-changing mats zipped at the back.
Here are other things that should be in your trusty bag or luggage. Remember to secure your belongings too.
Enough diapers. Alternatively, you can bring a few pieces in your bag and then buy them at your destination. (same goes with toys)
Burp cloth / Bib. Make it easily accessible from your bag's pocket. Some babies and toddlers drool the whole day they wear cloth bibs.
Rubber bands or hair ties. For when you need to roll up a pouch of unfinished snacks, or when you feel like a mess that tying your hair freshens you up.
Spare clothes. For you and the kiddo. You can place them in a wet/dry bag.
Muslin cloth. For when your kiddo needs an immediate blanket or a sun shade.
Socks. Must keep those little feet comfy.
Clothes for the fam
Rubbing alcohol
Kid sanitizer
Wet wipes
Facial tissue
Identification cards & money
Phone & chargers
Keys
Toiletries
Extras: Diaper rash cream, bendable cutlery, pacifier or teether, medic kit, baby bottles and milk, gadget, swim diaper
This is not a strict list. You know your toddler best and some have specific medical needs.
Depending on how long we'll be out, I'll probably bring my son's nail clippers too. I'd weigh whether I should also pack his vitamins or let him miss it if we're out for just a few days.
Some toddlers might also enjoy having neck pillows.
I'd like to add that as a parent, I like wearing multi-pocketed shorts or pants when traveling. Pro: Your valuables are within your reach without you carrying another small bag. Cons: It's a hassle if you are flying because you must always empty your pockets in security screenings. Whatever's in your pocket might also make you and your toddler uncomfortable when he's on your lap.
Finally, modify your list based on where you are going, what the weather could be, and what activities you are planning. Whether it's a road trip or it includes flying. Will it be a 3-day trip or a month-long vacation? Whatever it is I hope you have what you need and that you enjoy traveling with a toddler.
If you are wondering what to expect from your trip, you might want to read this post about what I learned from our first vacation with our toddler.
Get my free checklist below. It's a 2-page pdf separating hand-carry essentials from check-in luggage must-haves. Happy packing!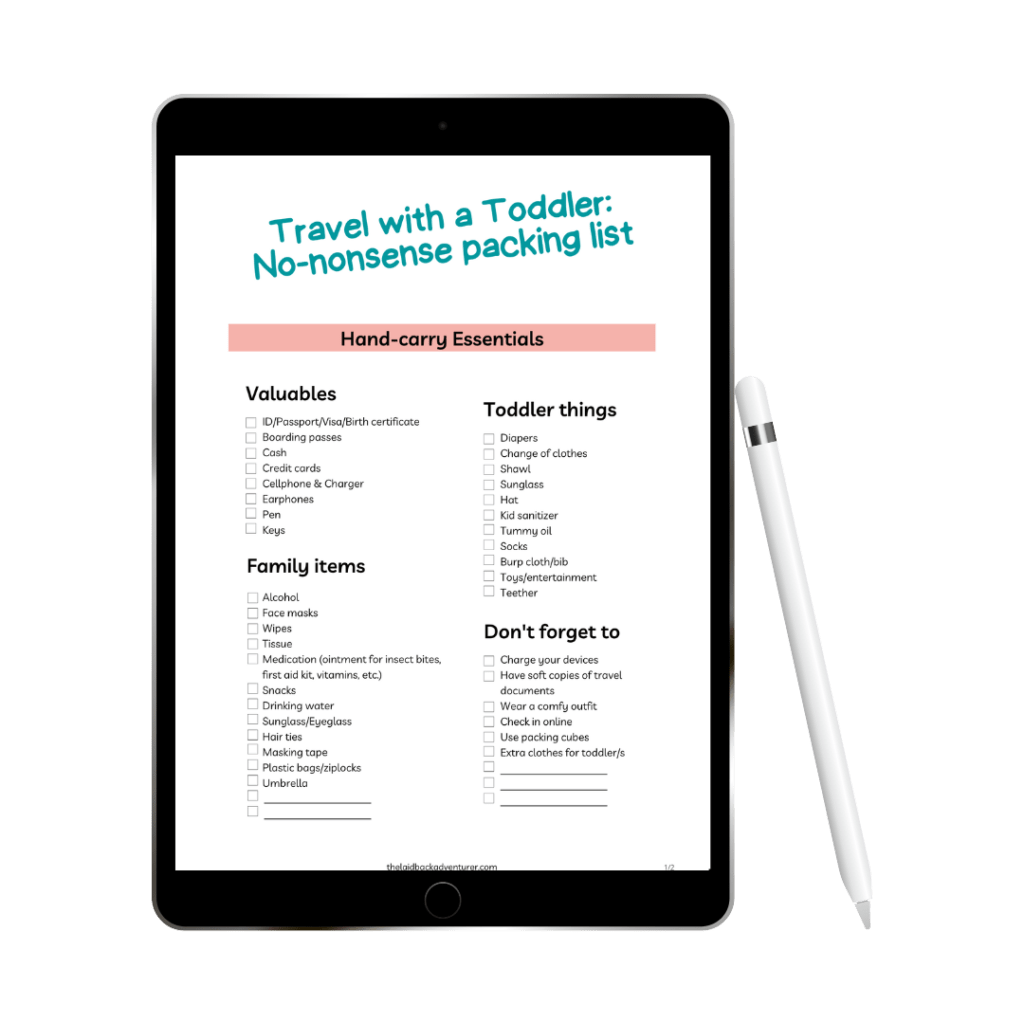 Traveling with your toddler soon?
Download this free travel packing checklist to get a guide on your must-haves for your tot. Print it or tick the checkboxes using your phone.