11+ Items To Have Before I Become a Mom of Two
So we're gonna do it again: give birth, recover, stay awake maybe for the next 2 years. What have I been missing before the big day (and the long nights)?
This post may contain affiliate links, which means if you make a purchase after clicking, I may make commission at no extra cost to you. I appreciate your support! See full disclosure
here
.
Since I wrote about our checklist for the second baby, guess I should also document what I'm planning to have for myself.
I am glad I wrote a blog post about postpartum healing and recovery last year. It was a way for me to go back to writing while also taking note of what I'm learning as a new mom.
Checking this blog post about the things new moms need also reminded me of those items that I currently don't have.
We are praying for VBAC so I'm paying more attention to perineum care.
POSTPARTUM CARE KIT
Just had a silly thought right now. Maybe I had c-section before because I didn't prepare these first three items? Hah. Yes of course, they are not related but I know I could be stubborn. I was thinking oh my body doesn't need that, it can heal itself.
1. Witch hazel spray
Buds & Blooms already have bottles of witch hazel perineal spray. I have yet to check whether I can also use it to make padsicles.
2. Peri bottle with warm water
I used to think kaartehan lang ito but hearing from a good friend how helpful this was, edi go. This portable bidet type seems easier to use than the usual peri bottles I see online.
3. Sitz bath basin
Small planggana could work but then for safety and hygienic purposes, it's better to have the actual sitz bath basin. Some recommend putting Epsom salt but it could also irritate nether regions. I'll just go with warm water na lang.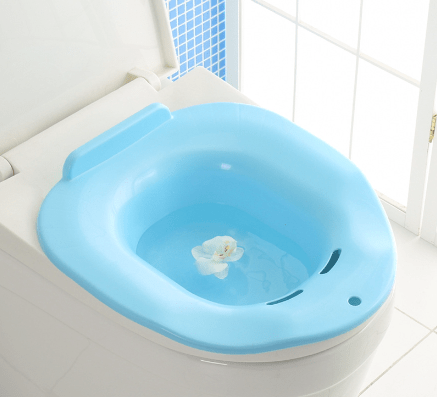 4. Heating pad
My husband said this Precious Herbal Hot and Cold Compress might help me deal with uterine contractions after I give birth. It might already help with my lower back pain now that my belly is huge.
5. Adult tape diapers & Sanitary pads
So for a time, there will be three humans wearing diapers in our home.
BREASTFEEDING
Even though I had success in breastfeeding our firstborn, it doesn't mean nursing will go as smoothly for the second baby. I'm glad I still have most of the items on my list of breastfeeding must-haves.
6. Breast milk storage bags
Aside from storing breast milk for my kids, I am planning to donate as much breast milk as I can. I should probably stock on 2 oz, 4 oz & 6 oz bags.
7. Wearable breast pump
I sold my portable Spectra 9+ so I can buy a wearable breast pump. My dream pump is the Willow 3.0 but its price is out of my reach for now. So my eyes are on Youha Gen 2 because it also has fewer parts to clean.
8. Natalac
This time I won't be trying many things to help my supply. These Natalac capsules should suffice, although I won't say no to lactation cookies and treats.
POSTPARTUM FOOD
It's still fresh in my mind how beaten my body felt postpartum. This is why I'm making a postpartum plan and it includes having freezer meals before I even give birth. Preparing healthy snacks is also on my list because nursing makes a mama very hungry.
9. Non-dairy coffee
Postpartum is a special stage for good coffee to help you stay awake. Maybe I'll pass on the Mother Nurture since I'm not a fan of its smell. I have to choose something that is not hard on my stomach.
10. Loose tea leaves
Part of my postpartum nutrition menu was a recovery tea recipe. It needs loose leaves of red raspberry, nettle, and oatstraw. I rarely drink tea but if it's for my wellness, let's have a go.
11. Instant Pot
I know this isn't food, but the Instant Pot's programs will help big time in preparing our postpartum meals. We'll have our hands full after I give birth. A tool for faster cooking will come in handy.
My current OB is water birth certified. I might try to give birth in a pool, who knows? If I go this route, there are other things that I need to bring. I saw the list from a fellow pregnant friend and it includes the following:
Dipper (long handle)
Fish net (for aquarium)
Doormat
Underpads
Thick robe
Big towels
Kool Fever
There is still the possibility of another c-section. I already have the abdominal binder from my c-section recovery essentials list (doesn't differ that much from normal delivery must-haves). Let us hope though for a successful TOLAC and VBAC.
When you take a step back, it's not just the material things that you need to prepare even as a second-time mom. There's your body growing another human. You're about to birth again which is never easy. And then as a mom of two, there will be adjustments, especially with your firstborn.
Oh well, hopefully we still have more than 12 weeks to get ready.